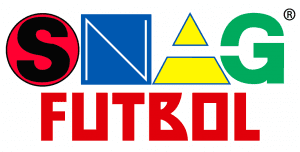 SNAG® Futbol – Where Golf Meets Soccer. We have teamed with the American FootGolf League to become their official league training tool. See – http://www.footgolf.net SNAG® Futbol will introduce the concepts of golf to young new-comers who may find swinging a club difficult and teach golf concepts to core soccer players who have never tried golf.
There are two major target markets here – the very young golfer who may have a difficult time developmentally swinging a club at a ball at this age . . . This wee golfer is perfect for our youngest SNAG® Futbol Kit. The 9" Size 3 soccer ball is ideal to learn all the rules, scoring and concepts of golf by 'kicking' a ball around your SNAG® Futbol Course before they grow into our regular SNAG® equipment and clubs.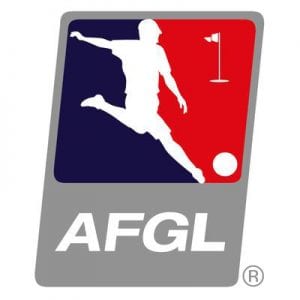 Our full-sized, Size 5 soccer ball at 11.5" is the seamless method to allow adult soccer players to transition to actual golf or to learn FootGolf by playing our full sized 'Above-Ground' SNAG® Futbol golf course. Golf courses considering introducing the exciting FootGolf version of our game will be able to test the market with SNAG® Futbol with absolutely no agronomic damage before installing a regulation FootGolf Course.
PE Teachers will immediately be drawn to our indoor/outdoor SNAG® Futbol – It is the perfect replacement to Kickball with all the same kicking skill sets, but instead of only a couple of active players, everyone is active with SNAG® Futbol. Each player has a ball, keeps score and enjoys the game simultaneously. Soccer coaches love us, as players must learn to 'pass' accurately in order to hit the large Footsticky! What a perfect way to teach very young players the rules, etiquette and vocabulary of golf.
Each Kit Includes: ??
24 Futbols (6 Red, 6 Green, 6 Blue, 6 Yellow)
Specify – Size Three (9") or Size Five Ball (11.5") ??
6 Large Futbol Footstickys ??
6 Large Futbol Launch Pads ??
6 Packs of Tees (2 tees in each pack) ??
6 SNAG-a-Greens
SNAG Buyer's Guide