What is a SNAG® Inflatable?
There is nothing like it in Golf . . . the SNAG® Inflatable is both an incredible teaching and player development tool which can fit a number of teaching applications, and it is also one of the biggest fundraising tools which we have ever seen.
The ROI reports from those who own them are simply off the charts. The easy to maintain SNAG® Inflatable sets up in minutes and can be used in both Indoor and Outdoor locations. SNAG® Inflatables have been spotted on the Beaches of New Zealand to the Snow Covered Slopes of the Alps to the University Classrooms of Korea.
They are now available to forward thinkers here in the United States. Powered by standard 110V electricity, the unit also comes with a 3KW whisper quiet gas generator for remote locations. The SNAG® Inflatable boasts a two-year warranty against defects. The oversized SNAG® Bulls Eye targets allow for our SNAG® balls to "stick" via hook and loop material for instant fun and feedback to your shot. The bright colors and targets bring delight to young and old, experienced and beginner and begs for you to take your best shot!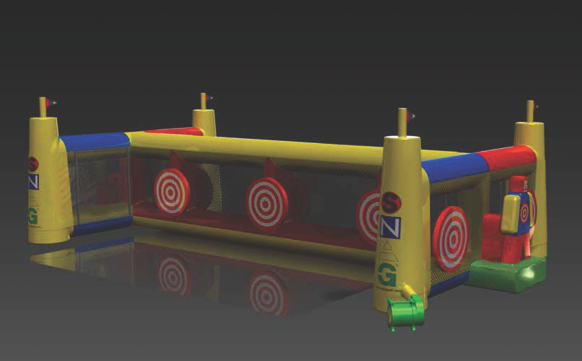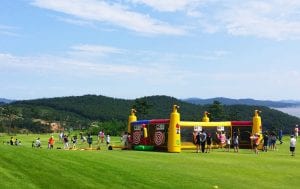 10 Bay Inflatable Range Package with SNAG equipment: $15,999
10 Bay Inflatable unit-  hold down stakes, repair kit and target clips inside bag w/unit
1 120v Blower
1 3kw gas generator
48 SNAG Launchers(irons) – 12 each of 4 sizes ( 26" green, 30"blue, 34' red and 35" black) with 10 right and 2 left handed of each size
20 SNAG Rollers(putters) – 5 each of 4 sizes (26" green, 30" blue, 34" red and 35"black)
10 Foam insert targets-  your choice of Bullseye, soccer or baseball
10 Rollerama Targets
6 Flagsticky Targets with flag and insert
6 SNAG-A-Green/ 1 SNAG-A-Feature
12 Launch Pads w/3 tees each
200 SNAG Balls
10 Small Hoop Clocks
2 SNAG Equipment carrier bags
SNAG Manual and SNAG Training video on DVD
43'L x 23'W x 12' tall 370 lbs.
Price does not include shipping.  A popular optional item is a heavy duty moving dolly –$729 +shipping.
We can deduct certain items if they are not needed i.e. generator or golf equipment.
Depending on shipping requirements and options selected the package will ship on either 2 or three pallets via ground truck freight.
Contact SNAG for Inflatable Opportunities

SNAG – Player Development Products LLC

Tahlequah, OK – 866-505-8874 – [email protected]